Trevor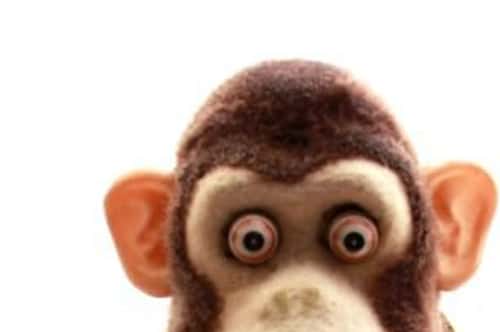 Trevor is a chimpanzee who once performed with the likes of Morgan Fairchild. Now, he's approaching puberty and can't even get a callback. Is it because he's big and strong and potentially dangerous? Or does he just need better costumes?
By Nick Jones
Directed by Moritz von Stuelpnagel
With Steven Boyer*, Geneva Carr*, Nathaniel Kent, Andy Nogasky*, Shawn Randall*, Amy Staats* and Colleen Werthmann*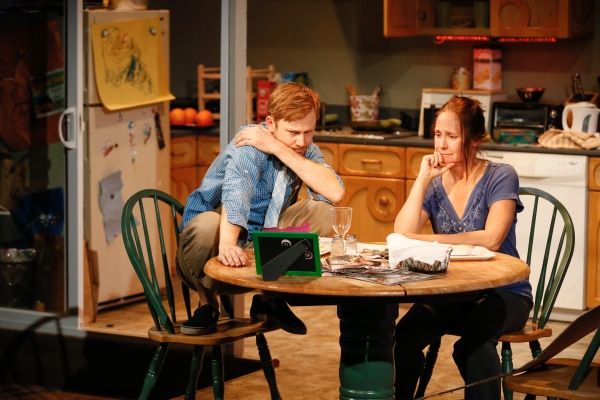 First produced by Lesser America Theater for the New City, NYC — February 28, 2013
Script available through Playscripts, Inc.
Inspired by true events, Trevor is a subversive comedy about fame, success, and the lies we tell ourselves in order to keep people from taking away an erratic, 200-pound chimpanzee. At the center of this hilarious and heart-wrenching play are two individuals fighting against a world unable to understand their love: Trevor, a chimpanzee who once performed in commercials with the likes of Morgan Fairchild, and his owner Sandra, who swears he would never hurt a fly…at least not on purpose. A moving exploration of family, flawed communication, and humanity.
SET: The kitchen, living room, and sundeck of a middle class home in rural America.
NOTES: Adult language.
Sly, witty…What makes this taut play…so impressive is not that it makes us understand and even like a dangerous ape, but that it does so while imagining him as an obnoxious jerk…Plays like "Sylvia" and "Bengal Tiger at the Baghdad Zoo" have found humor in animals speaking like humans. But in "Trevor" the laughs (and there are many) have an edge.

Jason Zinoman, NY Times (Critic's Pick)
"Sweet, clever and weirdly touching…Trevor's absurdist admixture of showbiz satire and real-life poignancy is so continually delightful, in fact, that you may not notice, as it flows by, how resonant the story actually is: about child actors, and actors in general; about animal individuality and animal rights; about flawed communication between loved ones; about the complex elements that enter into "acting like a man." Funny though it often is, Trevor is good for much more than a laugh."

Adam Feldman, Time Out (Critic's Pick)
(4 Stars of 5)
"Under its zany exterior…he play touches on serious topics: the trauma of has-been actors trying to get back into the game, and what happens when people anthropomorphize animals….All that plus a chimp playing a toy guitar, then fighting a human for the remote control? Few shows cover as many bases."

NY Post
(3.5 stars of 4)
(A) clever, subversive comedy…a layered production, buoyed by complex scenarios and a completely committed cast…Trevor toes the line between mordant humor and self-seriousness with aplomb.

NY Press
Trevor is memorably played by a pitch-perfect Stephen Boyer (familiar to audiences from his revelatory work in Hand to God at E.S.T.), who has created a believable chimp physicality, winningly paired with Jones' zingy dialogue which keeps him bouncing between a sort of cranky overgrown baby to a cynical aging actor….Director Moritz von Stuelpnagel has shaped this wild play with a steady hand, and clearly created a strong structure for his fine ensemble.

New York Theatre Review
"The show, like the monkey, refuses to be what you expect…calling something that makes you cry almost as much as you laugh "just" a comedy is about as accurate as calling an actor who wears a bunch of funny hats and sunglasses in front of a live audience "just" a chimpanzee."

That Sounds Cool
"But why do animals snap? Why are they beloved by some yet feared by others? How murky is the line between impressive and dangerous? These questions and then some are bravely tackled in Nick Jones's new play, a smart and original dark comedy…What's brilliant about Trevor is that the playwright fights equally for both sides. Completely trusting his audience and refusing to dumb down his script, Jones's characters are all flawed, yet present valid arguments, opinions, thoughts and concerns…"

Theater is Easy
"Steven Boyer, who plays Trevor, gives a heart wrenching and accurate performance that emphasizes the similarity between human adolescence and a socialized chimpanzee's yearning to become a real human being. Trevor, based on the life and death of Travis, the chimp in Stamford Connecticut who, in 2009, mauled Charla Nash, asks us to empathize with, or at least understand the overpowering emotions that bind humans to animals. It does so by turning the real Travis into a Pinocchio type character, a creature brought into existence through magic and faith in the maxim, "anything is possible if you just believe."

Cultural Capitol